Comic-Con & Gears!!! (update)
Sat Jul 26, 2008 at 05:19:30 AM EST
First of all, sorry for putting up this diary so late into Comic-Con. Secondly, I apologize for the multitude of pics because this stuff must be chronicled. I've made the rounds with Razor Hanzo to see everything that's Gears-related.
I made the beeline to Neca to purchase a few exclusive Carmine figures on Wednesday during Preview Night (only four-day pass holders could attend). Neca was limiting everyone to two figures per day. After purchasing these bad ass figures which will unfortunately be available only from this event as a single carded figure, I checked out the other figures in their display diorama (the diorama set pieces are only for display). Neca may decide to make him available as a multi-figure boxed set in the future. I snapped several pics of their upcoming Gears Series 2 figures and merchandise. Randy was originally going to unveil General Raam, Scorcher Locust, and a prototype of Marcus chainsawing a Locust, but decided against bringing them. He told me that the two-figure pack of Marcus & the chainsawed Locust was too difficult to pack in their stage of design at this current time. The blood splatter effects emanating from the chest was too fragile for the trip from New Jersey.
There will be an electronic 1:1 scale Lancer rifle with sound! The price hasn't been finalized at this time, but it's expected to be ready by Fall 2008 exclusively through Amazon.com.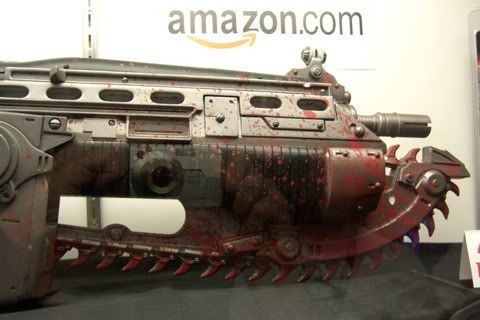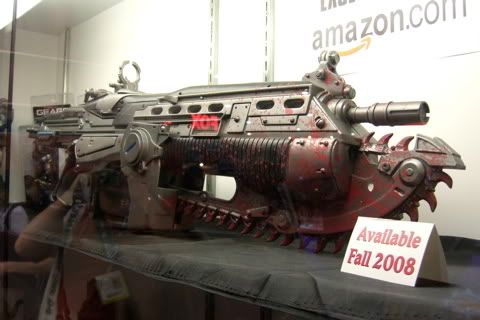 Next up were the wearables: Marcus' do-rag with wings emblem, COG tags, caps, key chains, and messenger bags. The do-rag & COG tags are a MUST HAVE.
Neca is also releasing a 12" scaled Marcus figure which will be available Sept. '08. Randy Falk was far too busy with Comic-Con duties to be interviewed, but agreed to follow-up on two weeks from now via email when they are back in New Jersey. So, stay tuned for exciting news & revelations from them.
Next up was Mindzeye Studios who acquired the license for Gears statues. Although the company may be small, they sure pack a punch! The statues are absolutely gorgeous! Seeing them in-person left my jaw on the floor. I immediately ordered all three of them in the platinum finish (my wife's gonna kill me). I had originally picked the bronze finish when I viewed the images from their site, but the actual platinum finish looked much more impressive. Unlike the pics displayed on their site, the platinum finish was much more subdued (more like a nickel or pewter finish). The Dominic Santiago statue was finished just in time for Comic-Con, but it was still missing the knife feature that protrudes from Dom's armor. The Boomer's Crimson Omen base that he stands on has a crack running across it to indicate that he's one heavy bastard. Mindzeye Studio's attention to details like these displays a respect and dedication that the Gears' franchise deserves. Cole, Baird, and possibly a Theron Guard Locust are in pre-production stages. These three figures are expected to ship at the end of August and will soon be joined with more of their colleagues. Pete Jirles assured me that it would definitely be in the final product because the almost-final production Dom statue had to make the SDCC trip. Pete was an awesome guy to speak with and I'll follow-up on the actual interview tomorrow (Saturday).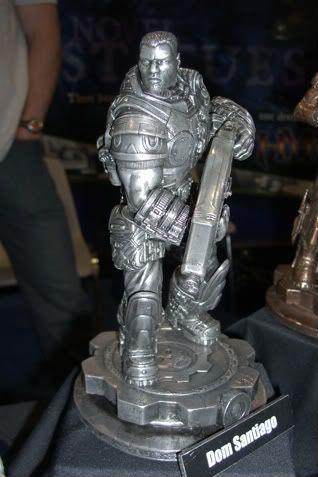 While walking the floor today, Razor and I spotted Cliff and Chantal walking near us. We didn't want to interrupt their time at Comic-Con, so we left the two lovebirds to enjoy the show in peace. :) Other celebrities such as Stan Lee, Seth Green, Samuel L. Jackson, Hideo Kojima, Stephen Baldwin (if you can even call him a celebrity), Olivia Munn, Kevin Priera, and Lou Ferrigno were also making the rounds on the convention floor.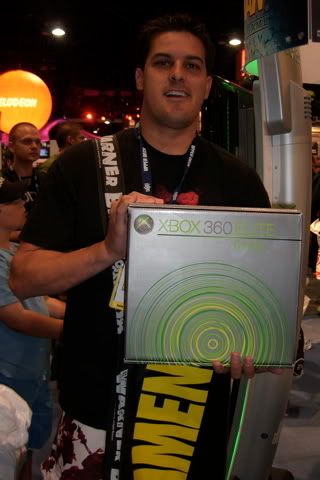 Our buddy, Bootleg Baker (whom some of you have gamed with), won an exclusive "Watchmen" 360 Elite from Warner Bros! I told Bootleg to enter the contest by texting in the required message & even walked him through how to do it. Wouldn't you know it that about half an hour later he received a text message on his cell indicating that he was the winner! The right place at the right time! My mojo rubbed off on Bootleg since he had never won anything before. :)
BTW: As far as I'm concerned...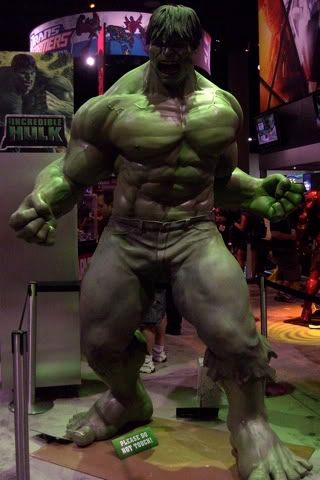 this is the only "Real" Incredible Hulk!