New Neca's Gears Figures (Series 3) Teaser Images!
Fri Oct 17, 2008 at 10:09:32 PM EST
Action figure fans and collectors assemble! Neca has just released a few teaser images of the next series (Series 3) of their Gears of War line. Randy Falk of Neca sent us a production prototype of Marcus Fenix's new headsculpt back when we interviewed him after Comic-Con.

Well, this newly sculpted head will be adorning a two-pack figure offering: Marcus Fenix vs. Locust Drone! As you can see from the image, Marcus can be posed to chainsaw the Drone right through its chest! Talk about getting "PWNED!!!"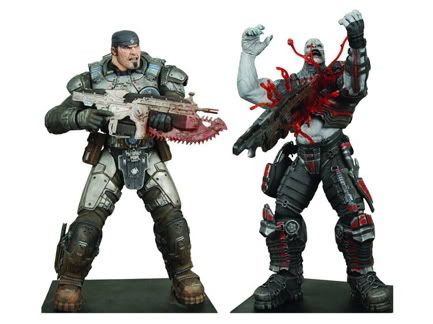 The next image is the Marcus v. 3.0 figure along with three unannounced figures. From the silhouettes, you can figure out that they will be Benjamin Carmine (resculpted helmet using the Comic-Con exclusive Anthony Carmine/Damon Baird body) and two Locusts (the far right one is probably a placeholder, but what about the one next to it?). In addition, the two-pack offering of Lt. Minh Kim vs. General Raam will most likely be announced very soon.

You can order the two-pack and Series 3 four-figure assortment here: Big Bad Toystore for $24.99 and $64.99, respectively.

Toyfare #136 Issue has a cover feature article of Neca's upcoming Gears of War 2 action figures. It should be at your local comics shop/bookstore/newstand now.
BTW: Check out this detailed review about Series Two's Dominic Santiago Dom Figure Review Michael Crawford has some impressive pics of Dom in several bad ass poses!